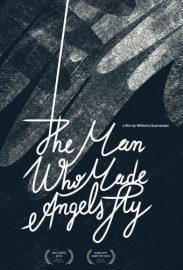 Please copy this link to share it:
https://www.filmplatform.net/product/man-made-angels-fly
Streaming Access
Unfortunately, this film is not available for streaming yet.
As soon as it will be available for streaming, it will appear in your university streaming page.
The Man who made Angels Fly
After fleeing to Sweden from Danzig, Germany (now Gdańsk, Poland) as a child during the Second World War, Michael Meschke grew up to become one of the world's greatest marionette masters and founder of the celebrated Marionetteatern in Stockholm. Now 82, this extraordinary artist and performer revisits his past by bringing his famous handcrafted puppets out of storage one last time.
Meschke demonstrates his genius at bringing characters to life with just the touch of a string. He effortlessly suspends disbelief with his tiny manipulations and magically relates his personal history through his creations.
| | |
| --- | --- |
| Running Time: | 64/53 min. |
| Subject(s): | Arts and Culture, Creative, European History |
| Language(s): | English, French, Swedish |
| Subtitles: | English |
| Director(s): | |
| Producer(s): | Luna W. |
| | |
| | |
| Production Company: | Luna W. |
This Week's Featured Films