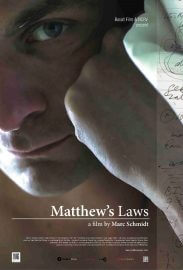 Please copy this link to share it:
https://www.filmplatform.net/product/matthews-laws
Streaming Access
Unfortunately, this film is not available for streaming yet.
As soon as it will be available for streaming, it will appear in your university streaming page.
Filmmaker Marc Schmidt reveals the life of his childhood friend Matthijs, afflicted with autism. Fragile but of exceptional intelligence, he establishes a system for analysing and controlling every moment of his life. Little by little the film unravels Matthew's complex way of thinking and shows the catastrophic consequences it eventually has for him.
This Week's Featured Films