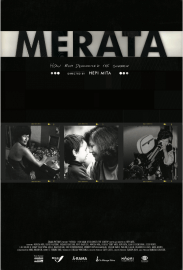 Please copy this link to share it:
https://www.filmplatform.net/product/merata-how-mum-decolonized-the-screen
Streaming Access
Unfortunately, this film is not available for streaming yet.
As soon as it will be available for streaming, it will appear in your university streaming page.
Merata: How mum decolonized the screen
An intimate story of the birth of indigenous cinema in New Zealand told from the perspective of Merata's son Hepi Mita.The sudden death of pioneering Māori filmmaker Merata Mita in 2010 led her son on a journey to uncover a story of a mother's love that changed the landscape of indigenous participation in film forever.
As a film archivist Hepi uncovers never before seen footage and shares deep personal accounts of her life that led her to blaze the trail for many indigenous voices we celebrate today; Warick Thorn- don, Taika Waititi, Sterlin Harjo and Zoe Hopkins to name a few.
This film is an important historical account of a movement we owe our indigenous voice to.
| | |
| --- | --- |
| Running Time: | 88 min. |
| Subject(s): | Activism, Cinema |
| Language(s): | English |
| Director(s): | |
| Producer(s): | Chelsea Winstanley, Ava DuVernay |
| Cinematographer: | Mike Jonathon |
| Editor(s): | Te Rurehe Paki |
| Production Company: | Ārama Pictures & Array |
Director's Statement

I never saw my mum as a filmmaker, nor was she ever an activist in my eyes. She was always a loving mum. And as the youngest of her six kids, that was the only side of her that I really knew. There was a lot about her 68 years of life I didn't know, and it is within the vaults of the film archive that she tells me the story of her past. My mum, Merata, was the first Māori woman, and first indigenous woman in the world, to write and direct a narrative feature film. She directed movies in Hollywood, interviewed Robert Mugabe in Zimbabwe, and worked for various respected organisations around the world such as the BBC and National Geographic. Her independent political documentaries of the '70s and '80s highlighted the injustices for Māori people in New Zealand, and often divided the country. But the suffering of my older siblings during these times was all too real. Her drive for social justice would have to be weighed against the dangers her work would expose them to. By weaving together films discovered within the vaults of the archives with the deep personal accounts of my older brothers and sister, a deeply intimate portrait emerges, and my mother's story reveals itself to me, and to the rest of the world, for the first time.
Back to Film Summary
This Week's Featured Films