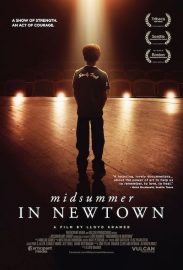 Please copy this link to share it:
https://www.filmplatform.net/product/midsummer-in-newtown
Streaming Access
Unfortunately, this film is not available for streaming yet.
As soon as it will be available for streaming, it will appear in your university streaming page.
When Newtown, Connecticut, was devastated by the loss of 20 first graders and six adults at the hands of a shooter at Sandy Hook Elementary School, the world looked on in horror unable to fathom such a tragedy. In the emotionally powerful and uplifting documentary Midsummer in Newtown, filmmaker Lloyd Kramer gains intimate access to three families who find hope in the transformative power of the arts.
A poignant reminder that there is heroism in simply living each day, Midsummer in Newtown is a soaring testament to the artistic expression of people determined to reflect love and beauty, in spite of the horror they've endured.
This Week's Featured Films