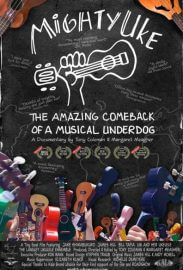 Please copy this link to share it:
https://www.filmplatform.net/product/mighty-uke
Streaming Access
Unfortunately, this film is not available for streaming yet.
As soon as it will be available for streaming, it will appear in your university streaming page.
Mighty Uke
Born in Hawaii in the 1880's, the ukulele was so easy to play that by the 20's, it was the most popular instrument in the American home. But then the rise of the rock and roll guitar pushed the uke into nerdy obscurity. Until now. In the Internet age, the instrument is making a comeback, and a new generation is rediscovering a unique musical voice.
MIGHTY UKE travels the world to chronicle the amazing and unlikely comeback of a musical underdog.
When we made the movie, MIGHTY UKE, we had no idea what was in store for us. We knew that there was a worldwide resurgence of the ukulele, but not how passionate people were about their little instrument. However, when we realized that uke-players, unlike most musicians, actually bring their ukuleles to concerts, we knew we had a new format for our screenings. We call it the MIGHTY UKE Roadshow and it involves a screening of the film, a concert by a master ukulele-player, and ends with a strum-along for the entire audience. The result has been a ukulele love-fest. In the short time since its release, MIGHTY UKE Roadshow has taken us on an amazing journey and we've witnessed our fair share of magic moments: 600 people in formal wear strumming in unison in Santa Cruz, California; an hour-long jam after the Washington DC show as ushers hovered in amazement, unsure of what they were seeing; 25 Arab and Jewish children in Israel bringing their parents together with their ukulele orchestra- all offering proof of the ukulele mantra, "music self-played is happiness self-made."
Back to Film Summary
This Week's Featured Films