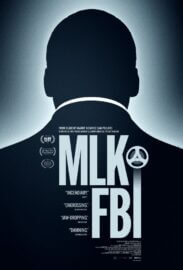 Please copy this link to share it:
https://www.filmplatform.net/product/mlk-fbi
Streaming Access
Unfortunately, this film is not available for streaming yet.
As soon as it will be available for streaming, it will appear in your university streaming page.
Dr. Martin Luther King Jr. is remembered as an American hero: a bridge-builder, a shrewd political tactician, and a moral leader. Yet throughout his history-altering political career, he was often treated by U.S. intelligence and law enforcement agencies like an enemy of the state. In this virtuosic film, award-winning editor, and director Sam Pollard lays out a detailed account of the FBI surveillance that dogged King's activism throughout the '50s and '60s, fueled by the racist and red-baiting paranoia of J. Edgar Hoover. In crafting a rich archival tapestry, featuring some revelatory restored footage of King, Pollard urges us to remember that true American progress is always hard-won.
This Week's Featured Films