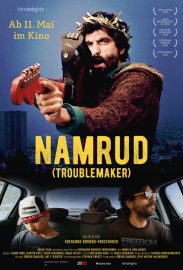 Please copy this link to share it:
https://www.filmplatform.net/product/namrud-troublemaker
Streaming Access
Unfortunately, this film is not available for streaming yet.
As soon as it will be available for streaming, it will appear in your university streaming page.
Namrud (Troublemaker)
JOWAN SAFADI, born as Palestinian in the State of Israel, is a famous musician and a true free spirit. With his band Fish Samak he delivers songs ranging from the political and social to the emotional and philosophical and gathered a huge fan-community in the Arabic world. Jowan is unafraid to speak his mind or tackle taboo subjects, and his lyrics, at once penetrating and witty, have also courted controversy on several occasions: Previously investigated by Israeli police for "inciting terrorism", his last tour to Jordan ended with his arrest and an overnight stay in a Jordanian prison cell. Now he must balance his activism with fatherhood.
| | |
| --- | --- |
| Running Time: | 95 min. |
| Subject(s): | Activism, Arts and Culture, Family, Human Rights, Israeli-Palestinian Conflict, Middle Eastern Studies, Music, Personal Story, Society |
| Language(s): | Arabic |
| Subtitles: | English, French, German, Spanish |
| Director(s): | |
| Producer(s): | Jürgen Karasek, Filip Antoni Malinowski |
| Cinematographer: | Jakob Fuhr, Martin Putz, Falko Lachmund, Rabia Salfiti |
| | |
| Production Company: | Soleil film |
This Week's Featured Films