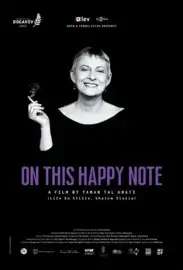 Please copy this link to share it:
https://www.filmplatform.net/product/on-this-happy-note
Streaming Access
Unfortunately, this film is not available for streaming yet.
As soon as it will be available for streaming, it will appear in your university streaming page.
Anat Gov, one of the most influential playwrights in Israeli theatre, is preparing for her death. She asks Arik Kneller, an artists' agent, to be the executor of her will. Arik struggles to accept the humor and serenity with which she faces her upcoming end. Anat, consciously accepting her nearing end, wishes to leave a spiritual legacy: there can be a happy ending. Almost a decade after her death, her loved ones try to fill the void left by her words with their own. Through excerpts from her plays and footage of her family and political world, a new script is written: one in which the line between the play and reality is blurred.
This Week's Featured Films