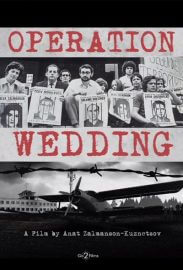 Please copy this link to share it:
https://www.filmplatform.net/product/operation-wedding
Streaming Access
Unfortunately, this film is not available for streaming yet.
As soon as it will be available for streaming, it will appear in your university streaming page.
Operation Wedding
A group of young Jewish dissidents plots to hijack an empty plane and escape the USSR. Caught by the KGB, they were sentenced to years in the gulag and 2 were sentenced to death. It started as a fantasy; under the disguise of a trip to a local wedding, the hijackers would buy every ticket on a 12-seater plane, so there would be no passengers but them. While the Soviet press prints "the criminals are punished", tens of thousands of people in the free world demand "Let My People Go!" Through intimate interviews, rare archives and reenactment made both in Israel and Russia, Anat reveals the full story of her parents who cracked the Iron Curtain.
| | |
| --- | --- |
| Running Time: | 62 min. |
| Subject(s): | Activism, Conflicts, Crime, European History, History, Human Rights, Military, Politics, Russian Cinema and Culture, War |
| Language(s): | English, Hebrew, Russian |
| Subtitles: | English, Russian |
| Director(s): | |
| Producer(s): | Sasha Klein, Guntis Trekteris, Anat Zalmanson-Kuznetsov |
| Cinematographer: | Andrejs Verhoustinskis, Franz Koch, David Stragmeister, Scott Sinkler, Daniel Miller, Sergei- Israel Freedman, Itzik Portal, Mike Bogatyrev, Rami Katzav, Emmanuelle Mayer |
| Editor(s): | Bracha Zisman-Cohen |
This Week's Featured Films