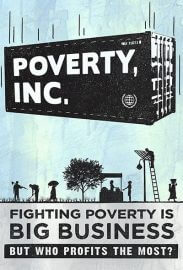 Please copy this link to share it:
https://www.filmplatform.net/product/poverty-inc
Streaming Access
Unfortunately, this film is not available for streaming yet.
As soon as it will be available for streaming, it will appear in your university streaming page.
Poverty, Inc.
The West has positioned itself as the protagonist of development, giving rise to a vast multi-billion dollar poverty industry — the business of doing good has never been better. Yet the results have been mixed, in some cases even catastrophic, and leaders in the developing world are growing increasingly vocal in calling for change.
From TOMs Shoes to international adoptions, from solar panels to U.S. agricultural subsidies, the film challenges each of us to ask the tough question: Could I be part of the problem?
This Week's Featured Films