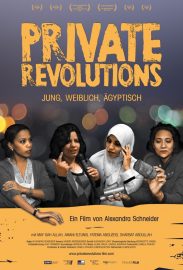 Please copy this link to share it:
https://www.filmplatform.net/product/private-revolutions-young-female-egyptian
Streaming Access
Unfortunately, this film is not available for streaming yet.
As soon as it will be available for streaming, it will appear in your university streaming page.
Private Revolutions – Young, Female, Egyptian
"Private Revolutions – Young, Female, Egyptian" is a documentary about four young Egyptian women with different social background who are sovereign, eloquent and determined. We see the street activist Sharbat, who was kicked out with her kids by her own husband due to her political engagement. We follow the path of Fatema, who is an active Muslim Sister and mum of three little sons at the same time. We experience the struggle of Amani who runs her own radio station and a publishing company trying to enhance more women rights. And we are with the Nubian May when she starts a development project in the conservative South of Egypt.
Their fight for justice and gender equality leads to conflict.
This Week's Featured Films