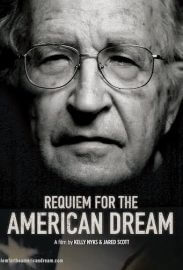 Please copy this link to share it:
https://www.filmplatform.net/product/requiem-american-dream
Streaming Access
Unfortunately, this film is not available for streaming yet.
As soon as it will be available for streaming, it will appear in your university streaming page.
Requiem for the American Dream
20 years after MANUFACTURING CONSENT and 10 years after THE CORPORATION, Noam Chomsky now dissects the most dramatic development of our time – the extraordinary consolidation of wealth and power in the hands of a select few and the demise of western democracy. Filmed over 5 years, Chomsky unpacks US policies of the past half-century, laying bare the principles that have led to this historically unprecedented concentration of private capital and political influence. a masterly diagnosis of where we are and where we are heading.
| | |
| --- | --- |
| Running Time: | 74 min. |
| Subject(s): | Activism, American History, Business, Current Affairs, Economy, Globalization, History, Media, Philosophy, Politics, Society |
| Language(s): | English |
| Director(s): | |
| Producer(s): | PETER HUTCHISON, KELLY NYKS, JARED P. SCOTT |
| Cinematographer: | MIKE McSWEEENEY, ROB FEATHERSTONE |
| Editor(s): | ALAN CANANT |
| Production Company: | PF PICTURES production |
This Week's Featured Films