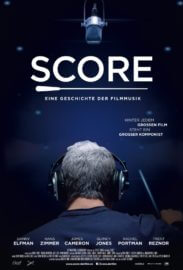 Please copy this link to share it:
https://www.filmplatform.net/product/score
Streaming Access
Unfortunately, this film is not available for streaming yet.
As soon as it will be available for streaming, it will appear in your university streaming page.
SCORE – EINE GESCHICHTE DER FILMMUSIK zeigt, wie einige der berühmtesten Filmthemen der Kinogeschichte konzipiert wurden und wie die Entwicklungsstufen eines Soundtracks vom leeren Notenblatt bis zum fertigen Score verlaufen. Die bekanntesten Filmmusikkomponisten teilen in diesem Dokumentarfilm ihre Erfahrungen und ihr Knowhow mit uns, den Zuschauern.
This Week's Featured Films