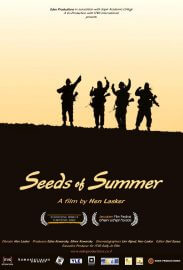 Please copy this link to share it:
https://www.filmplatform.net/product/seeds-of-summer
Streaming Access
Unfortunately, this film is not available for streaming yet.
As soon as it will be available for streaming, it will appear in your university streaming page.
Seven years after completing an IDF course for female combat soldiers, the director returns to the place where, for the first time, she fell in love with a woman – her commanding officer. Over the course of 66 days and nights, the film follows the girls in one of the IDF's most rigorous combat courses and looks at the relationships that develop between girls in an environment subject to strict military code.
More Festival Screenings

More Festival Screenings

In Competition – BLACK MOVIE, Geneva FF (Switzerland, February 2010)
Official Selection – Gay & Lesbian FF Pink Apple – Zurich (Switzerland, April 2010)

Official Selection – Asian Queer Film Festival (AQFF) (Japan, September 2009)
Official Selection – Michigan Women's Music Festival (USA, August 2009)
Official Selection – The 4th Tel Aviv International LGBT FF (Israel, June 2009)
Official Selection – New Directions in Documentary Film Festival & Symposium (USA, October 2009)
In Competition – New Zealand's Out Takes Film Festival (New Zealand, May-June, 2009)
Official Selection – WorldFilm-Tartu Festival of Visual Culture (Estonia, March 2009)
Official Selection – 3rd Singapore Indie Doc Fest (Singapore, March 2009)
Official Selection – Verzaubert FilmFest – Berlin (Germany, March 2009)
Official Selection – NY Jewish LGBTQ Film Festival (USA, June 2009)
In Competition –  Les Ecrans Documentaires (France, October 2008)
Official Selection – Kulturkreis DAS ZENTRUM Radstadt (Austria, November 2008)
In Competition – EntreVues, Belfort International Film Festival (France, November 2008)
Official Selection– RKF Film Festival; Rome-Milan-Trieste (Italy, November 2008)
In Competition – Festival Mix Brasil (Brasil, November 2008)
Official Selection – Moviemento & City-Kino Film Festival (Austria, August 2008)
In Competition – Sardinia International Ethnographic Film Festival (Italy, September 2008)
In Competition – Monterrey International Film Festival – SOCIAL VISION SHOWCASE (Mexico, August 2008)
In Competition – The International Women's Film Festival (Israel, Sep. 2007)
Official Selection– Rosh Pina Tv Festival (Israel, October 2007)
Official Selection –International Women's Film Festival Dortmund, "Queer Looks" platform (Germany, April 2008)
In Competition – Brooklyn International FF (USA, June 2008)

Broadcasts

Television Broadcasts

Reshet,  Channel 2, Israel
Humanistische Omroep, The Netherlands
ITVS – USA
YLE, Finland
SBS, Australia
The Documentary Channel, USA
RTSI-TELEVISIONE SVIZZERA di lingua italiana, Switzerland
Back to Film Summary
This Week's Featured Films