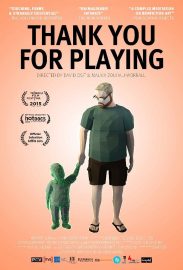 Please copy this link to share it:
https://www.filmplatform.net/product/thank-you-for-playing
Streaming Access
Unfortunately, this film is not available for streaming yet.
As soon as it will be available for streaming, it will appear in your university streaming page.
Thank You For Playing
When Ryan, a video game designer, learns that his young son Joel has cancer, he and his wife begin documenting their emotional journey in the form of an unusual and poetic video game. The result is a game called "That Dragon, Cancer" – an astoundingly honest and innovative work of art about the universal complexity of grief. Thank You For Playing follows Ryan and his family over two years, offering an intimate, revolutionary glimpse into how the fusion of art and technology – in this case, a video game – can document profound human experiences in the modern age.
Purchase the Video Game: THAT DRAGON CANCER

Purchase the video game on which the film is based, "That Dragon, Cancer" for iPhone/iPad here, and for PC / Mac here.

An immersive, narrative videogame that retells Joel Green's 4-year fight against cancer through about two hours of poetic, imaginative gameplay that explores themes of faith, hope and love.
Back to Film Summary
This Week's Featured Films