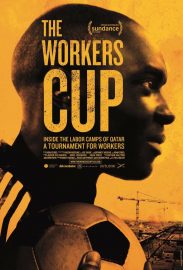 Please copy this link to share it:
https://www.filmplatform.net/product/the-workers-cup
Streaming Access
Unfortunately, this film is not available for streaming yet.
As soon as it will be available for streaming, it will appear in your university streaming page.
The Workers Cup is a personal look inside Qatar's labour camps, where the FIFA World Cup 2022 is being built on the backs of a million-plus migrant workers. For the first time ever a film team gained access to the controversial construction site. African and Asian migrant workers train to compete in a football tournament of their own: The Workers Cup.
| | |
| --- | --- |
| Running Time: | 54/89 min. |
| Subject(s): | Current Affairs, Globalization, Human Rights, Immigration and Migration, Investigative Journalism, Labor, Sports |
| Language(s): | Arabic, English, Hindi, Malayam, Urdu |
| Director(s): | |
| Producer(s): | Rosie Garthwaite, Ramzy Haddad |
| Cinematographer: | Nazim Aggoune, Joe Saadeh |
| Editor(s): | Lauren Wellbrock, Anne Jünemann |
| Production Company: | The Workers Cup Ltd. |
This Week's Featured Films