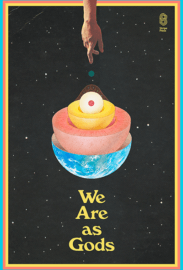 Please copy this link to share it:
https://www.filmplatform.net/product/we-are-as-gods-events
Streaming Access
Unfortunately, this film is not available for streaming yet.
As soon as it will be available for streaming, it will appear in your university streaming page.
"WE ARE AS GODS offers a deep dive into the many sides of Stewart Brand—creator of The Whole Earth Catalog, an influential member of Ken Kesey's "The Merry Pranksters," and founder of the modern environmental movement. Brand's approach to his work and life influenced many, including Steve Jobs, who have gone on to shape our modern world. Now in his 80's, he looks to leave a legacy for the long-term future with his efforts to resurrect ecosystems through de-extinction.
The man who coined the phrase "we are as gods and might as well get good at it" is now under fire from former allies who believe he's gone too far, but Brand won't be easily deterred from a mission he
This Week's Featured Films