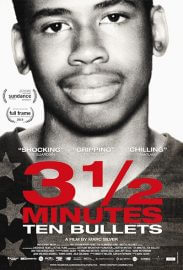 Please copy this link to share it:
https://www.filmplatform.net/product/3-12-minutes-ten-bullets
Streaming Access
Unfortunately, this film is not available for streaming yet.
As soon as it will be available for streaming, it will appear in your university streaming page.
3 1/2 Minutes, Ten Bullets
On Black Friday 2012, four African-American teenagers stopped at a gas station to buy gum and cigarettes. One of them, Jordan Davis, argued with Michael Dunn, a white man parked beside them, over the volume of music playing in their car. The altercation turned to tragedy when Dunn fired 10 bullets at the unarmed boys, killing Davis almost instantly. The seamlessly constructed, riveting documentary film 3 1⁄2 MINUTES, TEN BULLETS explores the danger and subjectivity of Florida's Stand Your Ground self-defense laws by weaving Dunn's trial with a chorus of citizen and pundit opinions, alongside the wrenching experiences of Jordan Davis' parents.
This Week's Featured Films