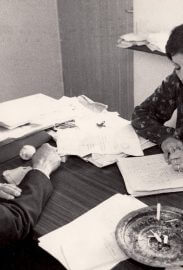 Please copy this link to share it:
https://www.filmplatform.net/product/advocate
Streaming Access
Unfortunately, this film is not available for streaming yet.
As soon as it will be available for streaming, it will appear in your university streaming page.
Advocate
Lea Tsemel defends Palestinians: from feminists to fundamentalists, from non-violent demonstrators to armed militants. As a Jewish-Israeli lawyer who has represented political prisoners for five decades, Tsemel, in her tireless quest for justice, pushes the praxis of a human rights defender to its limits. As far as most Israelis are concerned, she defends the indefensible. As far as Palestinians are concerned, she's more than an attorney, she's an advocate.
| | |
| --- | --- |
| Running Time: | 109 min. |
| Subject(s): | Activism, Biography, Israeli-Palestinian Conflict, Law and Justice, Middle Eastern Studies |
| Language(s): | Arabic, English, Hebrew, Arabic, English |
| Subtitles: | English |
| Director(s): | |
| Producer(s): | Rachel Leah Jones, Philippe Bellaiche, Joelle Bertossa, Paul Cadieux |
| Cinematographer: | Philippe Bellaiche |
| Editor(s): | Yael Bitton |
| Production Company: | Home Made Docs |
This Week's Featured Films