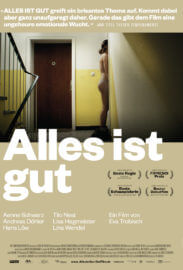 Please copy this link to share it:
https://www.filmplatform.net/product/alles-ist-gut
Streaming Access
Unfortunately, this film is not available for streaming yet.
As soon as it will be available for streaming, it will appear in your university streaming page.
Alles ist gut – so zumindest der Eindruck, den Janne (Aenne Schwarz) vermitteln möchte. Aber nichts ist gut. Nicht, seitdem ihr neuer Chef ihr seinen Schwager Martin (Hans Löw) vorgestellt hat, der am Abend ihres Kennenlernens gegen ihren Willen mit ihr schläft. Danach lässt Janne erst mal alles seinen gewohnten Gang gehen – wenn man die Dinge nicht zum Problem macht, hat man auch keins. Doch ihr Schweigen über den Vorfall weicht nach und nach einer stillen Ohnmacht. Bis Janne ihr Leben und die Liebe zu ihrem Freund Piet (Andreas Döhler) langsam entgleiten.
| | |
| --- | --- |
| Running Time: | 93 Min. min. |
| Subject(s): | Conflicts, Gender, Human Rights, Sexuality, Society, Women |
| Language(s): | German |
| Director(s): | |
| Producer(s): | Trini Götze, David Armati Lechner |
| Cinematographer: | Julian Krubasik |
| Editor(s): | Kai Minierski |
| Production Company: | TRIMAFILM |
This Week's Featured Films