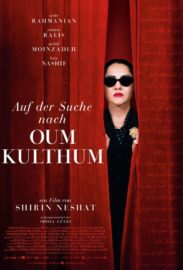 Please copy this link to share it:
https://www.filmplatform.net/product/auf-der-suche-nach-oum-kulthum
Streaming Access
Unfortunately, this film is not available for streaming yet.
As soon as it will be available for streaming, it will appear in your university streaming page.
Auf der Suche nach Oum Kulthum
Für Mitra, eine ehrgeizige Künstlerin, Mutter und Ehefrau in den besten Jahren, geht ein Traum in Erfüllung: Sie kann endlich den Film über eine ihrer Heldinnen, die legendäre, orientalische Sängerin Oum Kulthum, drehen. Im Zentrum ihres Films stehen die Opfer und der Preis, den Oum Kulthum für ihren Erfolg in einer konservativ-geprägten, muslimischen Gesellschaft zahlen musste. Während der Dreharbeiten verschwindet auf einmal Mitras jugendlicher Sohn. Die Sorge um ihn und die zunehmende Schwierigkeit, den Mythos Oum Kulthum sowie die Frau und Künstlerin dahinter zu ergründen, führen letztlich zu Mitras emotionalen und künstlerischen Zusammenbruch.
This Week's Featured Films