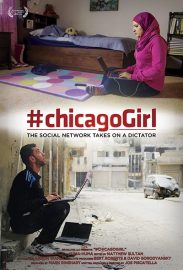 Please copy this link to share it:
https://www.filmplatform.net/product/chicagogirl
Streaming Access
Unfortunately, this film is not available for streaming yet.
As soon as it will be available for streaming, it will appear in your university streaming page.
From her childhood bedroom in suburban Chicago, Ala'a, a 19-year-old American girl coordinates the revolution in Syria.
Armed with Facebook, Twitter, Skype and cameraphones, she helps her social network "on the ground" in Syria brave snipers and shelling in the streets to show the world the human rights atrocities of a dictator. But just because the world can see the violence doesn't mean the world can help. As the revolution rages on, everyone in the network must decide what is the most effective way to fight a dictator: social media or AK-47s.
This Week's Featured Films