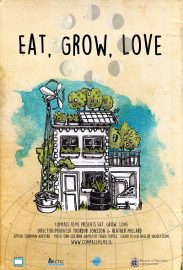 Please copy this link to share it:
https://www.filmplatform.net/product/eat-grow-love
Streaming Access
Unfortunately, this film is not available for streaming yet.
As soon as it will be available for streaming, it will appear in your university streaming page.
We often ask ourselves, how can I contribute to a more sustainable society? What if a simple set of design principles known as permaculture could help us to have the knowledge to grow our own food, on our windowsill, back garden or even our roof without it taking up all of our precious time? 'Eat, Grow, Love' focuses on 6 individuals from across the globe: Iceland, Palestine, USA, Australia, UK and India who have all found that the answer to their problems lies in permaculture.
This Week's Featured Films