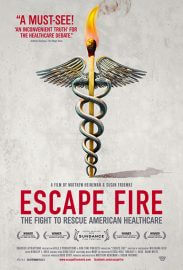 Please copy this link to share it:
https://www.filmplatform.net/product/escape-fire
Streaming Access
Unfortunately, this film is not available for streaming yet.
As soon as it will be available for streaming, it will appear in your university streaming page.
Escape Fire
Escape Fire: The Fight to Rescue American Healthcare tackles one of the most pressing issues of our time: how can we save our badly broken healthcare system? American healthcare costs are rising so rapidly that they could reach $4.2 trillion annually, roughly 20% of our gross domestic product, within ten years. We spend $300 billion a year on pharmaceutical drugs – almost as much as the rest of the world combined. We pay more, yet our health outcomes are worse. About 65% of Americans are overweight and almost 75% of healthcare costs are spent on preventable diseases that are the major causes of disability and death in our society.
This Week's Featured Films