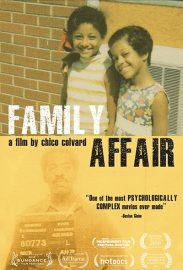 Please copy this link to share it:
https://www.filmplatform.net/product/family-affair
Streaming Access
Unfortunately, this film is not available for streaming yet.
As soon as it will be available for streaming, it will appear in your university streaming page.
At 10 years old, Chico Colvard accidentally shot his older sister in the leg. This seemingly random act detonated a chain reaction that exposed unspeakable realities and shattered his family. Thirty years later, Colvard ruptures veils of secrecy and silence again. As he bravely visits his relatives, what unfolds is a personal film that's as uncompromising, raw, and cathartic as any in the history of the medium.
Interview With Chico Colvard

Interview conducted by the Center for Independent Documentary
Back to Film Summary
This Week's Featured Films