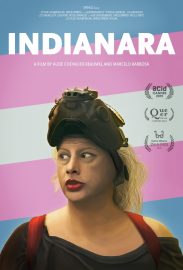 Please copy this link to share it:
https://www.filmplatform.net/product/indianara
Streaming Access
Unfortunately, this film is not available for streaming yet.
As soon as it will be available for streaming, it will appear in your university streaming page.
Indianara
Indianara, a bigger-than-life revolutionary character and her group who lead a fight for the survival of transgender people in Brazil.
Shot during tumultuous times in Brazil while Michel Temer is president, while the Marielle Franco is killed in cold blood, Indianara is an incredible woman, a Gena Rowlands of sort who doesn't take no for an answer. She cares about humanity and decency for all.
In the shelter she founded, in the streets and during demonstrations, she fights for her ideals, including her relationship with Maurice, her husband. Nearing fifty, facing political attacks and the advance of totalitarianism, she commits a real act of resistance.
Indianara is the title of the film, but first and foremost the name of a woman for whom everything is about love, friendship and solidarity. As they follow this transgender militant, the filmmakers immerse us in a life made of fights. Every day is constructed as a struggle against oppression or disdain. This ongoing commitment is guided by a transgender community in Brazil, fighting solely with weapons of indignation, fraternal love and determination. Here, bodies stand strong, resist and never resign. They guide us through fragile existences where pride in being different becomes a place of communicative joy. If we revel it is in order to find the power to live.

Always close to what is at stake under our eyes, the camera grabs this vitality without ever dismissing the frightening reality, which constantly catches up with the characters. Indianara is a film where intimacy overflows political action. It offers itself to us as a survival guide in hostile territory, like a pamphlet of tremendous poetic intensity. It is finally a demonstration that wherever freedom is attacked, digging deeper in our differences is where we will find strength to build a common ideal.
Back to Film Summary
This Week's Featured Films