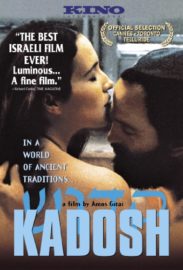 Please copy this link to share it:
https://www.filmplatform.net/product/kadosh
Streaming Access
Unfortunately, this film is not available for streaming yet.
As soon as it will be available for streaming, it will appear in your university streaming page.
Meïr and Rivka have been married for ten years but have to divorce because they have no children. Malka, Rivka's sister, is in love with Yaakov, who has chosen to live outside the community. The rabbi makes a decision: Malka will marry Yossef, his assistant. Rivka falls prey to solitude, while Malka chooses another path: rebellion.
| | |
| --- | --- |
| Running Time: | 110 min. |
| Subject(s): | Cinema, Jewish Studies, Personal Story, Philosophy, Religion and Spirituality, Women |
| Language(s): | Hebrew |
| Subtitles: | English |
| Director(s): | |
| Producer(s): | Amos Gitai, Michel Propper |
| Cinematographer: | Renato Berta |
| Editor(s): | Monica Coleman, Kobi Netanel |
| Production Company: | Agav Hafakot, M.P. Productions, Le Studio Canal+, Mikado Films (Italy) |
This Week's Featured Films