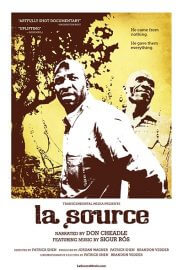 Please copy this link to share it:
https://www.filmplatform.net/product/la-source
Streaming Access
Unfortunately, this film is not available for streaming yet.
As soon as it will be available for streaming, it will appear in your university streaming page.
Narrated by Oscar-nominated actor Don Cheadle (Hotel Rwanda, Crash), in what The Washington Post calls an "artfully shot documentary," La Source tells the uplifting story of Josue Lajuenesse, a Haitian Princeton janitor who returns to his country after the devastating 2010 earthquake to revive his lifelong dream to bring what is most fundamental to his village's survival; clean water.
This Week's Featured Films