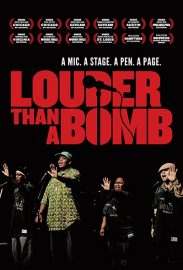 Please copy this link to share it:
https://www.filmplatform.net/product/louder-than-a-bomb
Streaming Access
Unfortunately, this film is not available for streaming yet.
As soon as it will be available for streaming, it will appear in your university streaming page.
Louder Than A Bomb tells the story of four Chicago high school poetry teams as they prepare to compete in the world's largest youth slam. By turns hopeful and heartbreaking, the film captures the turbulent lives of these unforgettable kids, exploring the ways writing shapes their world, and vice versa. Louder Than A Bomb is not about "high school poetry" as we often think of it. It's about language as a joyful release, irrepressibly talented teenagers obsessed with making words dance.
This Week's Featured Films