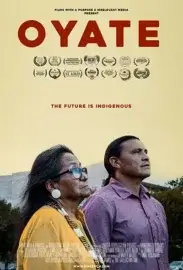 Please copy this link to share it:
https://www.filmplatform.net/product/oyate
Streaming Access
Unfortunately, this film is not available for streaming yet.
As soon as it will be available for streaming, it will appear in your university streaming page.
OYATE
In 2016, the world turned its eyes to the people of Standing Rock as they formed a coalition of unprecedented magnitude to defend their land and water from the threat of the Dakota Access Pipeline.
An inflection point for human rights and environmental justice, the #NoDAPL struggle became a rallying cry for Indigenous people everywhere to take a stand against the myriad injustices committed against them for centuries.
OYATE elevates the voices of Indigenous activists, organizers, and politicians as they offer their perspective on that complicated history, contextualize the #NoDAPL movement, illuminate the interconnectivity between the issues facing Indian Country today, and look towards a more sovereign and sustainable future for their people.
This Week's Featured Films