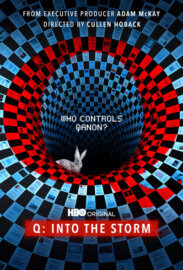 Please copy this link to share it:
https://www.filmplatform.net/product/q-into-the-storm
Streaming Access
Unfortunately, this film is not available for streaming yet.
As soon as it will be available for streaming, it will appear in your university streaming page.
The docuseries explores the workings of QAnon, an online conspiracy led by the anonymous figure "Q." To discover Q's true identity, the filmmaker embeds in a dark underworld populated by trolls, political operatives, and QAnon's key figures. A rivalry brews between Jim and Ron Watkins – the secretive father/son duo who own and run 8chan – and its young founder, Fred Brennan, the team behind 8chan, where Q posts its cryptic messages. Following a string of mass shootings linked to his website, Fred goes on a warpath to end 8chan and Q. The film delves into how QAnon began, and explores the players behind it, as well as asking bigger questions about how free speech impacts society.
This Week's Featured Films