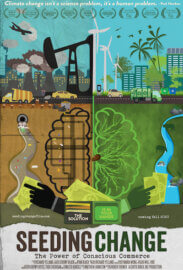 Please copy this link to share it:
https://www.filmplatform.net/product/seeding-change
Streaming Access
Unfortunately, this film is not available for streaming yet.
As soon as it will be available for streaming, it will appear in your university streaming page.
20 years ago, a young group of social entrepreneurs joined a movement to change the world through the pursuit of an alternative economic model and practice of conscious commerce. Seeding Change: The Power of Conscious Commerce is about "triple bottom line" businesses that consider the social, environmental and financial impacts of their companies and address some of today's most challenging issues. Seeding Change is an award-winning documentary empowering viewers to be part of the solution by voting with their dollars and supporting the brands and products that align with their values.
This Week's Featured Films