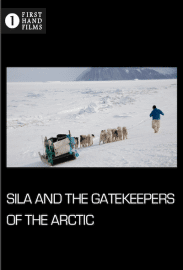 Please copy this link to share it:
https://www.filmplatform.net/product/sila-gatekeepers-arctic
Streaming Access
Unfortunately, this film is not available for streaming yet.
As soon as it will be available for streaming, it will appear in your university streaming page.
Sila and the Gatekeepers of the Arctic
In the fragile ecosystem of the North, climate change is most visible. Greenland's ice sheet is melting rapidly, attracting curious scientists to study its cause and effect. At the island's periphery, indigenous Inuit have relied on the seasonal sea ice for many centuries, for food and for clothing. Today, their lives are greatly affected by the changing climate, weather and water. In the striking landscape of Greenland, the documentary takes the audience to distinct geographical locations in Greenland: The Inland Ice Sheet, the capital Nuuk, Disko Bay and the village of Siorapaluk, a settlement that lies closest to the North Pole.
| | |
| --- | --- |
| Running Time: | 58/70 min. |
| Subject(s): | Animals, Conflicts, Ecology, Environment, Economy, Family, Food, Health, History, Nature and Wildlife, Politics, Science, Society |
| Language(s): | English, Kalaallisut, Inuktun |
| Subtitles: | English |
| Director(s): | |
| Producer(s): | Corina Gamma, Markus Kaeppeli, Stefan Jäger, Katrin Renz |
| Cinematographer: | Corina Gamma |
| Editor(s): | Gisela Wybel, Anthony Porter |
| Production Company: | Greensphere Productions |
This Week's Featured Films