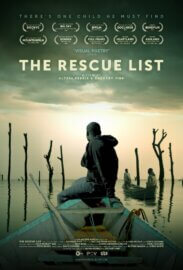 Please copy this link to share it:
https://www.filmplatform.net/product/the-rescue-list
Streaming Access
Unfortunately, this film is not available for streaming yet.
As soon as it will be available for streaming, it will appear in your university streaming page.
The Rescue List
In a hidden safehouse in the Ghanaian forest, social workers help two children recover from a childhood enslaved to fishermen on Lake Volta – the largest man-made lake on Earth. But their story takes an unexpected turn when their rescuer embarks on another rescue mission and asks the children for help. The Rescue List charts the unfolding drama of these rescue operations alongside a stirring portrait of the boys' recoveries as they prepare to return to their families. The film depicts a moving story of friendship and courage that transcends the trope of victimhood, exploring what it means to love and to survive.
Winner of the 2021 Emmy for Outstanding Social Issue Documentary.
This Week's Featured Films