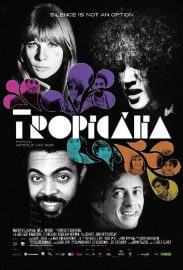 Please copy this link to share it:
https://www.filmplatform.net/product/tropicalia
Streaming Access
Unfortunately, this film is not available for streaming yet.
As soon as it will be available for streaming, it will appear in your university streaming page.
'Tropicalia' brings a contemporary look into this important cultural movement, which exploded in Brazil in the late 1960s. It mixes valuable archive material especially recovered for the production and encounters with the icons of the movement such as Caetano Veloso and Gilberto Gil, among others.
Director's Statement

I dived deep down into the period, giving priority, wherever possible, to those who actually photographed, filmed or recorded in 1967, 1968 and 1969. I've always had the impression that documentary making generates more material than is actually used. So I sought out interviews about Tropicalism made by other directors, looking for raw material that has never been seen. I put the best of this material together, chronologically, and picked out excerpts which I showed to tropicalistas themselves, who were willing to comment. Then I recorded what they had to say. In the spirit of cultural cannibalism, I ate it all up and am giving back this collage in which music is the primary interest and songs are the focus of attention. It is a film to sing-along to."
Back to Film Summary
This Week's Featured Films