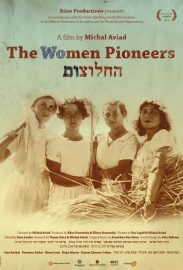 Please copy this link to share it:
https://www.filmplatform.net/product/woman-pioneers
Streaming Access
Unfortunately, this film is not available for streaming yet.
As soon as it will be available for streaming, it will appear in your university streaming page.
A hundred years ago, women pioneers came from Europe to Palestine, to realize the dream of creating a new woman in a new world, a woman who is as independent as men are. The women pioneers have left diaries and texts which tell their stories. Their writings shed new light on the archival footage of the time. The Women/Pioneers uncovers the course of their passionate battles and painful disappointments, until they were defeated, and gave up their own liberation for the national struggle.
Directors Notes

The Women Pioneers is my first film that is entirely made from archival footage and written texts. In it I wanted to bring the viewers back to the 1920's in the Galilee, into the lives of Jewish women pioneers who came from Europe, in the hope of creating a new woman. After finding the relevant footage we worked in the editing room to create a montage that reveals as much as possible of their daily experiences in relation to the texts they wrote in their diaries. While the footage and the texts are from the first part of the 20th century, the actresses who deliver the texts, are young Israeli women, who remind us through their delivery that the struggle for equality and liberation, is unfortunately still relevant to us, the women of today.
Back to Film Summary
This Week's Featured Films