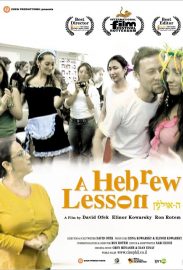 Please copy this link to share it:
https://www.filmplatform.net/product/a-hebrew-lesson
Streaming Access
Unfortunately, this film is not available for streaming yet.
As soon as it will be available for streaming, it will appear in your university streaming page.
Students from all corners of the world and all walks of life meet in a Hebrew language Ulpan, where their personal stories merge with the complexities of life in Israel. The immense effort of learning a new language is revealed through their encounter with a strange culture and an unfamiliar environment. Israeli society appears at times funny, at times sad and at times inexplicable. Beyond the surface differences, the shared experiences of human longing and love triumph.
More Festival Screenings

Official Selection – the UK Jewish Film Festival 2007 
Jury Award – Slow Film Festival, 2007 
Official Selection– Philadelphia Jewish Film Festival, 2008
Official Selection– Stamford Jewish Film Festival, 2007
Official Selection– Amsterdam Jewish film festival, 2007
Official Selection – The Boston Jewish Film Festival, 2007
Official Selection – Hartford Jewish Film Festival,  2008
Opening Film– NY Premier at the New York Jewish Film Festival, presented by The Jewish Museum and The Film Society of Lincoln Center, 2008
In Competition– The Palm Beach International Film Festival, 2008
Official Selection – Madison University-Wisconsin, 2008
Official Selection – The Vancouver Jewish Film Festival, 2008
Official Selection – Washington Jewish Film Festival,  2008
Official Selection– Jewish Culture Festival in Cracow, 2008
Official Selection – JCC Manhattan,  2008
Official Selection – Long Island JCC, 2008
Official Selection – Sarasota Film Festival, 2008
Official Selection – the 16th Portland Jewish Film Festival, 2008
Back to Film Summary
This Week's Featured Films