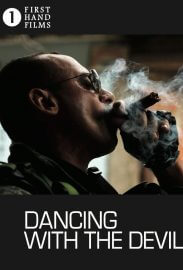 Please copy this link to share it:
https://www.filmplatform.net/product/dancing-devil
Streaming Access
Unfortunately, this film is not available for streaming yet.
As soon as it will be available for streaming, it will appear in your university streaming page.
OSCAR and Emmy awarded director Jon Blair offers us an intimate look at one of the bloodiest urban conflicts on earth; a gripping film with unprecedented access to some of Rio de Janeiro's most wanted men, together with the specialist police units that hunt down and kill them.
Three men stalk the gloomy back – alleys of the city's notorious slums. There are Spiderman, a 28-year-old drug lord, Inspector Leonardo Torres, a muscle-bound cop from Rio's drug squad and Pastor Dione, an evangelical preacher intent on ending the city's drug conflict.
This Week's Featured Films