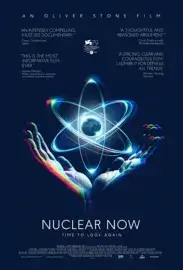 Please copy this link to share it:
https://www.filmplatform.net/product/nuclear-now
Streaming Access
Unfortunately, this film is not available for streaming yet.
As soon as it will be available for streaming, it will appear in your university streaming page.
With unprecedented access to France, Russia, and the United States' nuclear industry, Nuclear Now envisions a world where nuclear energy triumphs over climate change and energy poverty. Beneath our feet, Uranium atoms hold an incredible energy reserve, unlocked during the mid-20th century for bombs and submarines. As societies transitioned from fossil fuels to nuclear power, a long-term PR campaign, funded by coal and oil, aimed to sow public fear of harmless low-level radiation and blur the line between nuclear weapons and energy. Oliver Stone reminds us that knowledge conquers fear, and our human ingenuity can tackle the climate crisis.
This Week's Featured Films