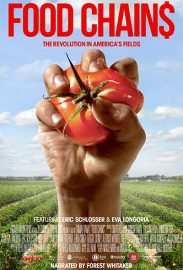 Please copy this link to share it:
https://www.filmplatform.net/product/food-chains
Streaming Access
Unfortunately, this film is not available for streaming yet.
As soon as it will be available for streaming, it will appear in your university streaming page.
There is more interest in food these days than ever, yet there is very little interest in the hands that pick it. Farmworkers, the foundation of our fresh food industry, are routinely abused and robbed of wages. In extreme cases they can be beaten, sexually harassed or even enslaved – all within the borders of the United States.
Food Chains reveals the human cost in our food supply and the complicity of large buyers of produce like fast food and supermarkets.
This Week's Featured Films