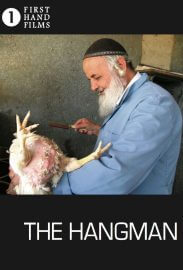 Please copy this link to share it:
https://www.filmplatform.net/product/hangman
Streaming Access
Unfortunately, this film is not available for streaming yet.
As soon as it will be available for streaming, it will appear in your university streaming page.
The administrator of the mass deportation of Jews to the Nazi death camps Adolf Eichmann, was hanged in Israel's first and only execution. Shalom Nagar, a religious Jewish ritual slaughterer and street philosopher who believes in charity, was the hangman.
His life encapsulates the story from the perspective of "the other" – the marginalized Sephardi prison warden who was forced to do the dirty work of hanging the arch-enemy, and thus to carry a national burden that dramatically shaped the country, and his life.
This Week's Featured Films