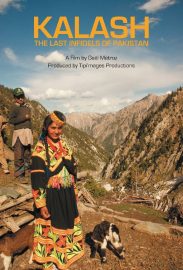 Please copy this link to share it:
https://www.filmplatform.net/product/kalash-last-infidels-pakistan
Streaming Access
Unfortunately, this film is not available for streaming yet.
As soon as it will be available for streaming, it will appear in your university streaming page.
Kalash, The Last Infidels of Pakistan
n a remote valley at the Pakistan-Afghan border, the last three thousand pagan Kalash live surrounded by the Muslim community and the Afghan refugees.This spring, the Taliban have passed the gates of her village.
As she leaves her carefree childhood behind, Najiba is at the turning point of Kalash history. She must choose between converting to Islam, embracing the modern world or allowing her traditions to continue. With this choice, her generation could put an end to the eternal return of the seasons, for so long sanctified by the Kalash.
This Week's Featured Films