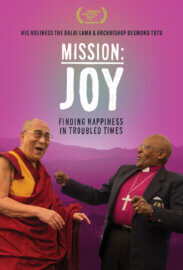 Please copy this link to share it:
https://www.filmplatform.net/product/mission-joy-ii
Streaming Access
Unfortunately, this film is not available for streaming yet.
As soon as it will be available for streaming, it will appear in your university streaming page.
Mission: JOY (ii)
Deeply moving and laugh-out-loud funny, this documentary gives unprecedented access to the unlikely friendship of two international Nobel Peace Prize winners and global icons who transcend religion: His Holiness the Dalai Lama & Archbishop Tutu. Offering groundbreaking neuroscience-backed wisdom to help each of us find more joy in our daily lives, the never-before-seen footage shot over five days at the Dalai Lama's residence in Dharamsala, invites viewers to join these luminaries as they recount stories from their profound lives. Through genuine affection, mutual respect, and a healthy dose of teasing, these friends impart ways to live joyously regardless of the challenges of life, whether extraordinary or mundane. Mission: Joy is an antidote for the times.
This Week's Featured Films