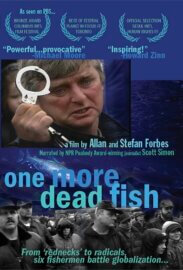 Please copy this link to share it:
https://www.filmplatform.net/product/one-more-dead-fish
Streaming Access
Unfortunately, this film is not available for streaming yet.
As soon as it will be available for streaming, it will appear in your university streaming page.
One More Dead Fish
When six handline fishermen seize a Federal building in Nova Scotia and barricade themselves inside for 26 days, the Canadian government refuses to negotiate. These protestors say their unlikely journey from rednecks to radicals is part of a decades-long battle against corporate industrialization and environmental devastation. With scientists warning of a complete collapse of global fish stocks by 2048, One More Dead Fish cuts through a fog of government mismanagement and Orwellian misinformation with clarity and cutting-edge scientific analysis. Narrated by NPR's Scott Simon and directed by Emmy-nominated filmmaker Stefan Forbes, this film bears witness to one of the most important environmental protests of the late 20th century.
This Week's Featured Films