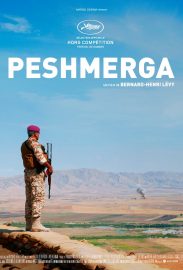 Please copy this link to share it:
https://www.filmplatform.net/product/peshmerga
Streaming Access
Unfortunately, this film is not available for streaming yet.
As soon as it will be available for streaming, it will appear in your university streaming page.
From July to December 2015, Bernard-Henri Lévy and a team of cameramen travelled the 1000 km of the frontline that separates Iraqi Kurdistan from Daesh's troupes. From this journey, comes a logbook in images that offers a privileged view of a war that is unfinished but whose stakes are of global importance. In close quarters with the Peshmergas, these Kurdish fighters who show unfailing determination in their fight against obscurantism and jihadi fundamentalism, the film takes us from the heights of Mosul to the heart of the Sinjar Mountains passing on the way via the last Christian monasteries threatened with destruction.
This Week's Featured Films