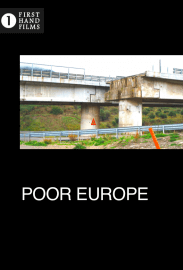 Please copy this link to share it:
https://www.filmplatform.net/product/poor-europe
Streaming Access
Unfortunately, this film is not available for streaming yet.
As soon as it will be available for streaming, it will appear in your university streaming page.
In Europe, 119 million people live in or with the risk of poverty and social exclusion. The reality of poor children, unemployed young adults, and working poor spread around the Union. In 2010 the "European Economic and Social Committee" launched "Europe 2020" – an agenda to heave 20 million people out of poverty by 2020. A journey through Italy, Portugal and Ireland investigating the causes of poverty, while challenging politicians and economic experts on the subject. Can Europe's fight against poverty be successful?
This Week's Featured Films