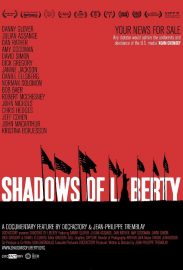 Please copy this link to share it:
https://www.filmplatform.net/product/shadows-liberty
Streaming Access
Unfortunately, this film is not available for streaming yet.
As soon as it will be available for streaming, it will appear in your university streaming page.
Shadows of Liberty
Shadows of Liberty reveals the extraordinary truth behind the news media: censorship, cover-ups and corporate control.
Filmmaker Jean-Philippe Tremblay takes an intrepid journey through the darker corridors of the American media landscape, where global conglomerates call the shots. For decades, their overwhelming influence has distorted news journalism and compromised its values.
In highly revealing stories, renowned journalists, activists and academics give insider accounts of a broken media system. With Danny Glover, Julian Assange, Dan Rather, Roberta Baskin, and many others.
This Week's Featured Films