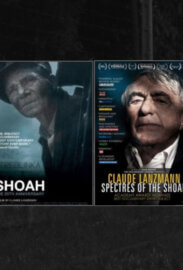 Please copy this link to share it:
https://www.filmplatform.net/product/shoah-claude-lanzmann-specters-of-the-shoah-special-bundle-available-in-north-america-only
Streaming Access
Unfortunately, this film is not available for streaming yet.
As soon as it will be available for streaming, it will appear in your university streaming page.
SHOAH & Claude Lanzmann: Spectres of the Shoah | Special offer | Available in North America only.
Claude Lanzmann's vanguard documentary, Shoah (1985), has been revived as a digital release for the first time ever. This life-altering resource about the Holocaust is shockingly relevant today and, in addition, the 40-minute Oscar-nominated short Claude Lanzmann: Spectres of the Shoah is a vital educational tool for institutions focused on teaching about genocide and the Holocaust. The breakout phenomenon, as well as the first major documentary to be made on the life of the late auteur, became the first motion picture to be turned into an NFT in 2021. Both films are available to stream now on Film Platform.
| | |
| --- | --- |
| Running Time: | 274/293 min. | 40 min. |
| Subject(s): | Arts and Culture, Biography, Cinema, European History, Genocide, History, Holocaust, Human Rights, Jewish Studies, Media, Philosophy, War |
| Language(s): | English, French, German, Greek, Hebrew, Italian, Polish |
| Subtitles: | English |
| Director(s): | |
| Producer(s): | Claude Lanzmann | Adam Benzine |
| Cinematographer: | Dominique Chapuis, Jimmy Glasberg, Phil Gries (documentary segments), William Lubtchansky | Alex Ordanis |
| Editor(s): | Ziva Postec, Anna Ruiz, Yael Perlov | Tiffany Beaudin |
| Production Company: | IFC Films | Jet Black Iris |
This Week's Featured Films