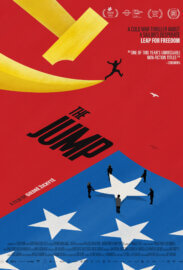 Please copy this link to share it:
https://www.filmplatform.net/product/the-jump
Streaming Access
Unfortunately, this film is not available for streaming yet.
As soon as it will be available for streaming, it will appear in your university streaming page.
In 1970, in the middle of the Cold War, an American patrol boat meets a Soviet fishing vessel in the middle of the Atlantic Ocean. Suddenly, a Lithuanian sailor jumps across ten feet of icy water, landing on the deck of the American boat in a frantic bid for political asylum. To his horror, the Americans return him to the Soviets. Told through incredible archival footage and re-lived by the would-be defector Simas Kudirka himself, the tale takes us on a stranger-than-fiction journey of imprisonment, twists of fate, and the price of becoming a symbol of freedom.
This Week's Featured Films