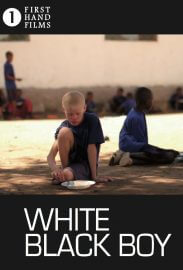 Please copy this link to share it:
https://www.filmplatform.net/product/white-black-boy
Streaming Access
Unfortunately, this film is not available for streaming yet.
As soon as it will be available for streaming, it will appear in your university streaming page.
In Tanzania albino body parts and blood are used in magic potions created by witch doctors and are sold for huge amounts of money. To protect albino children, the government sends them to boarding schools, far away from their families. Here they live more or less abandoned in a world without adults, small children taking care of even smaller.
Following Shida through his first year at his new home, we see from a child's pespective the consequences of being hunted and unwanted.
Director's statement

I came to Tanzania to make a film about the killings of children with albinism. Besides the killings the people with albinism are discriminated, they get skin cancer because of the strong sun, and most of them never live to become 40. What does it do to you as a human being, if you live under these conditions? There is a deep conflict in the fact that the hate and mistrust you must feel against the world is parallel with the desire of acceptance and being a part of the society, that expels you. But confronted with the children's situation my focus changed.

The first time I met Shida and his friends they lived at Buhangija – an institution for disabled. Here they lived more or less abandoned in a world without adults, small children taking care of even smaller. It is ironic that the children with albinism are interned at the institutions to be safe from the killings, but the price is a life without love and living in isolation. They almost never spoke and if they did, it was an unhearable whisper. They would stand at the gate every night looking out at the world they were not allowed to be a part of.

But when Shida and the 41 other children with albinism were transferred to the Dekapoli School, it felt like I saw their life change right before my eyes. After they had been there a few days I heard their voice for the first time. They started to believe in themselves. What stroke me the most was how despite everything, they are just children, playing like children everywhere else in the world. They do not see themselves as victims. They are children who have a future.
Back to Film Summary
This Week's Featured Films